iSVU is a resource developed by the Society for Vascular Ultrasound to provide immediate access to the SVU Professional Guidelines.
This app contains many reference tables that are very helpful in the day-to-day interpretation of vascular ultrasound studies.
Incredibly priced at only $4.
Each guideline summary includes key information, reference tables, normal image sequences and pathology figures that are quick and easy to look up. They can also serve as a teaching tool in an educational setting. Three vascular calculators are included to complement the guidelines. The app also provides links to videos that demonstrate the imaging protocols in various sections. All the latest professional performance Guidelines in PDF format that you can review, download and print are included in the Library for rapid access. Topics include:
SVU Cerebrovascular Guidelines
SVU Peripheral Arterial Guidelines
SVU Peripheral Venous Guidelines
SVU Visceral Guidelines
Included calculators:
Carotid Stenosis (SRU Consensus Conference)
Ankle Brachial Index (ABI)
Renal Aortic Ratio (RAR)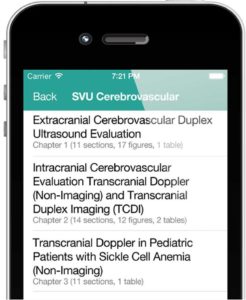 View this product in the stores below:
Google PlayFor Android Users
Apple App StoreFor Apple Users
​
Please note, iSVU requires iOS 7.0 or higher.