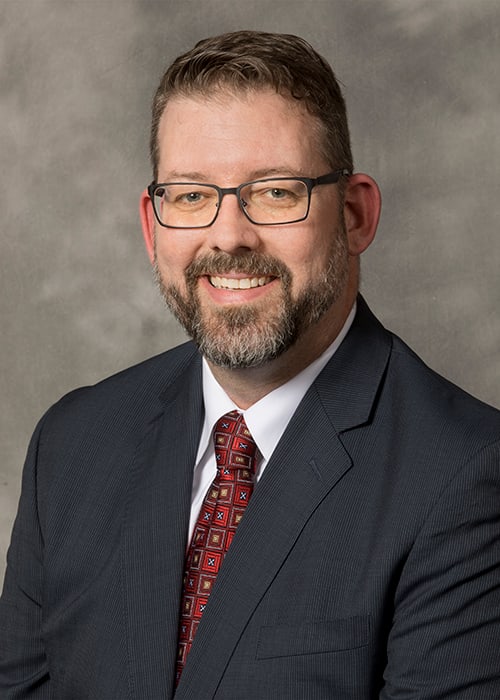 Access the ballot and vote here!
Everything posted below is directly from the candidate's application. Some minor formatting changes may have been made by SVU, but all content is from the candidate.
Dublin, OH
SVU Member since 2006
Work History (for full work history, see resume/CV attached above)
Technical Director – Core Lab
OhioHealth
Columbus, OH
July 2017-present
Education
BS in Biology from MacMurray College
AS in Respiratory Therapy from Lincoln Land Community College
Additional Skills
Proficient in all aspects of research into treatment of vascular disease. This includes regulatory
requirements, protocol creation, and training for research protocols. Responsible for creation of
research imaging protocols for multiple large-scale vascular device trials.
Relevant Professional Experience
I have been the technical director for large scale labs first in Illinois and then in Ohio for 15 years. During this time,
I created a vascular ultrasound lab for a large interventional cardiology group called Prairie Cardiovascular
Consultants in Springfield, Illinois. We then grew this lab into a regional system of vascular labs servicing patients
in central and southern Illinois. I then relocated to central Ohio and expanded a single vascular lab into a network
of 12 vascular labs servicing central and southeastern Ohio.
SVU Service
Awards Committee Member – (2017-Present)
Awards Committee Chair – (2018-2020)
Elected Board of Directors Member – (2018-2020)
Abstract Committee Member – (2020-present) Society for Vascular Ultrasound
Liaison with the Society for Vascular Medicine – (2019-Present)
Annual Conference Faculty 2019 – Presentation Abdominal Arterial Duplex
Central Region SVU Meeting Faculty – 2016, 2017, 2018, 2019
Other Professional/Leadership Activities:
Publications:
Frequency Interference Artifact – Images in Vascular Ultrasound B. Fowler, R. Kolluri Vasc Med.
2011 Aug; 16(4): 312-3.
Venous Insufficiency Anatomical Variations and Nomenclature. A Review. B. Fowler, H.
Ramirez, R. Kolluri Journal for Vascular Ultrasound. 2012 Dec; 36(4): 254-258.
Vascular Access Complications: Diagnosis and Management. R. Kolluri, B. Fowler, S. Nandish
Current Treatment Options in Cardiovascular Medicine 2013 DOI 10.1007/s11936-013-0227-8.
Venous Insufficiency Evaluation with Duplex Scanning. B. Fowler, J. Zygmunt, H. Ramirez, R.
Kolluri Journal for Vascular Ultrasound. 2014 April: 38(1): 34-40.
Non-Invasive Testing of the CLI Patient. B. Fowler, R. Kolluri in "Critical Limb Ischemia –
Diagnostics and Interventions", J. Mustafa 2014.
Perspective: Incorporating Vascular Ultrasound into an Adult Echocardioraphy Laboratory-
Practical Considerations. B. Fowler, B. Wells Journal of the American Society for
Echocardiography 2016 February; 29 (2): A22-23.
Perspective: Dual Registry Pay, Incentivizing your Sonographers. B. Fowler Journal of the
American Society for Echocardiography 2017 February; 30 (2): A22.
A Novel Duplex Finding of Superficial Epigastric Vein Flow Reversal to Diagnose Iliocaval
Occlusion. Kolluri R, Fowler B, Ansel G, Silver M. Journal of Vascular Surgery: Venous and
Lymphatic Disorders. 2017 May 31; 5(3): 358-62.
Key Developments in Superficial Venous Disease Management. Kolluri R, Fowler B.
Endovascular Today. 2018 March; 17(3): 40-42.
www.svu.org 3
Restenosis After Tack Implantation is Associated with Less Complex Patterns of Restenosis
Compared to Stent Implantation. Kolluri R, Gray W, Armstrong A, Fowler B Vascular &
Endovascular Review. 2019; epub November 1st 2019.
Rat Bite Fever: A Rare Case of Critical Limb Ischemia. Frederick A, Fowler B, Kolluri R.
Vascular Medicine. 2019 Oct;24(5):465-6.
Prevalence and Predictors of Increased Central Venous Pressure in Patients with Lower Extremity
Chronic Venous Insufficiency. Kolluri R, Bashir R, Matros T, Albers A, Fowler BC, Frederick A,
Gupta A, Patil N, Davis P, Ansel G. Journal of Vascular Surgery: Venous and Lymphatic
Disorders. 2020 Feb 21.
Practical guide for deep venous patency and obstruction. B. Fowler, in "Practical Phlebology:
Venous Ultrasound", Zygmunt J. 2020 (Pending Publication)
Presenting Faculty Member:
The VEINS – 2011, 2012, 2013, 2014, 2015, 2016, 2017, 2018, 2019
VIVA – 2017, 2018, 2019
American Society of Echocardiography – 2015, 2016, 2018
Society of Vascular Medicine – 2018, 2019
Candidate Statement
I would like to make a difference to SVU and the profession of vascular ultrasound by continuing my work on the
SVU board of directors. The COVID-19 pandemic has been tough on everyone and that included the SVU. I want to
serve a second term and help guide the society through these difficult times.
Access the ballot and vote here!