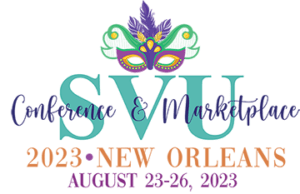 Please join us for an intriguing, inspiring, and innovative 2023 Annual Conference & Marketplace centered around TEAMWORK, the theme of this year's conference. This year's conference will be held at the Hyatt Regency in New Orleans.
This is a comprehensive, four-day long, course designed to provide an update on the diagnosis of vascular disease using real time B-mode imaging, color, spectral Doppler, and other noninvasive techniques. The course will also address essential issues in the areas of Vascular Laboratory practice management, education and reimbursement.
Highlights Include:
Wednesday, August 23
Pre-Conference Course: Didactic and Hands-on Workshop on Venous Reflux Testing
Thursday, August 24 -Saturday, August 26
SVU General Session
Advanced Arterial Duplex Session to include live pedal duplex imaging and a super panel for discussion
Joint SVU/SVS Session with combined physician and RVT lectures
Combined SVU and American Vein and Lymphatic Society (AVLS) Session specializing in pelvic venous disease.
Cerebrovascular and TCD Session with a super panel for discussion
Comprehensive sessions on abdominal imaging, arteriovenous fistula, and venous reflux with live scan and super panel
Debates: Why I do what I do
SVU Annual Conference Age Policy
Individuals under the age of 16 are not permitted to attend SVU Annual Conference education sessions, exhibit hall or other social events. Only registered meeting attendees and those with a daily guest/exhibit badge will be allowed in the exhibit hall.
Infants (12 months or younger) who need to be with their parent will be allowed in the exhibit hall provided they are being carried by an adult (no strollers).