Make your school stand out over all the others… Become a SVU Signature School.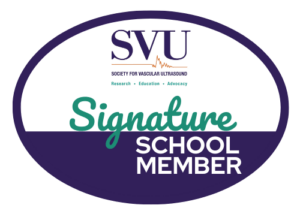 Why Should Your School Become a Signature School Member?
Electing to become a Signature School is a way to demonstrate the school's commitment to develop the best generation of vascular technologists. As a member, you will have access to educational resources that can be easily incorporated into the curriculum. Students will have access to key resources such as the journal and networking opportunities, which helps grow awareness of your institution when they work in the field.
Student Benefits
Apply for $7,500 in annual scholarships
Receive a printed version of Journal for Vascular Ultrasound quarterly
Access webinars on a variety of vascular specific topics or career development tips
Discounted membership rate ($25 instead of $35)
Sponsoring Faculty Liaison
(name listed on the application)
$10 discount on your individual membership fee
Additional Benefits
Membership Certificate designating the school as a Signature School
Access to the Signature School logo to use on website and marketing materials
How to Qualify
The SVU Signature School Membership category requires 100% student participation in SVU. Below are the steps to take to become a Signature School Member:
All students and faculty member representative must join SVU
Faculty member will be assigned as the Signature School Liaison:

Maintains list (annual application) of student members
Ready to stand out?
Please fill complete ALL of the following forms below and submit them to SVU. All dues payments must be submitted in one payment (i.e., one check or card charge for the entire membership).
To be completed by Representative.
To be completed by each individual student becoming a member.