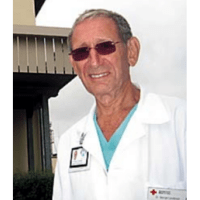 Dr. George S. Lavenson, Jr. lovingly referred to as "Doc" by his many friends, died Saturday, August 19, 2023 in the beautiful island of Maui. Dr. Lavenson was a Vascular and general surgeon and worked tirelessly up to his last days educating and advocating for screening seniors for stroke prevention.
Dr. Lavenson was a longtime SVU member and was named an Honorary SVU Member in 1999. Honorary Membership is bestowed upon individuals who have given outstanding support and/or service to SVU.
In 2018, Dr. Lavenson was awarded the SVU Annual Conference Physician Presenter Award. This award is given in recognition of his, "Killing Strokes – An Opportunity for the Society of Vascular Ultrasound" presentation.
If you would like to make a donation in memory of Dr. George S. Lavenson, his family is requesting donations be made to The Red Cross Maui Disaster Relief Fund.